Insights
Holding Myself Accountable on Our Firm's DEI Progress
What ripples have we made since 2020?
February 27, 2023
As a futurist, I think about what I want tomorrow to look like and my role in planting seeds today to create that future for my family, my colleagues, and the generations that follow. Becoming aware to the unconscious biases that affected my day-to-day decisions, I began to study the system that shaped me.
A system is made up of stated policies, overt practices, and processes. As I wrote in June 2020, after George Floyd's murder, I sought to understand and alter what I'd previously failed to notice. In consulting and within our future-focused firm, we talk a lot about "widening the aperture" for our clients, literally exposing them to a broader view of their challenges. As CEO, I wanted to widen the aperture for our company, with a goal of guiding our people and actions to ripple a change through our Toffler Associates team, the clients we work with, and the policies and strategies we influence through our work. To begin our journey, we integrated multiple Diversity, Equity, and Inclusion (DEI) initiatives into our strategy and operations. Although we are a small firm, we focused on what we wanted to change while also broadening our team's understanding of the behaviors that contribute to a more inclusive culture and society. Although we have just begun our long journey, I'd like to share our progress.
Giving ourselves the vocabulary and space to discuss difficult issues
Recognizing that awareness and learning will be different for all the members of our team, we focused on creating a new level of openness and vocabulary. The team initiated multi-week programs, exercises, and discussions focused on increasing our awareness of discrimination, inclusion, intersectionality, and the many ways we unconsciously influence social equity. The team's "Growing Awareness Discussions" leveraged pre-read material (articles, blogs, videos, etc.) and facilitated discussions. The dialog was deeply personal for many team members, and it also seemed to bring us closer as colleagues as we shared stories of fear, discrimination, and threats. After one session, I learned a childhood story I shared caused some participants to react in a way I hadn't anticipated. The individual conversations that followed strengthened relationships and provided proof that with courage and honesty, we could navigate the difficult conversations together.
From these initial sessions in 2020, we had a vocabulary to openly talk about societal racism, microaggressions, social justice, and other concerns that may have previously felt taboo in the workplace. There was a heightened level of acknowledgment of the issues of systemic racism and potential issues within our firm and with our clients. These open dialog sessions led to the team discussing what was important for the firm to feel truly inclusive as well as what diversity means beyond race and gender and why that is important to us and our client work. This also led to additional organized team discussions and exercises in 2021 and 2022. Having a workplace feel safe and open to all is an ongoing challenge and one we keep in mind as we onboard every new hire.
Defining DEI for ourselves and as a firm
Our conversations during this time underscored that we came to the table with different interpretations of DEI. So we could define the term for our firm, we developed a DEI statement through crowd-sourced team discussions. This collaboration enabled us to collectively determine how we want to represent and demonstrate DEI. We regularly reaffirm and return to this statement as it sets the tone for who we are and how we engage as a firm. We realize, though, for newer employees not involved in creating this definition, the words may not hold the same power or resonance. A challenge for me is determining how to involve newer staff in revisiting and potentially updating these words. For now, though, when I refer to our DEI initiatives, this is the definition I follow.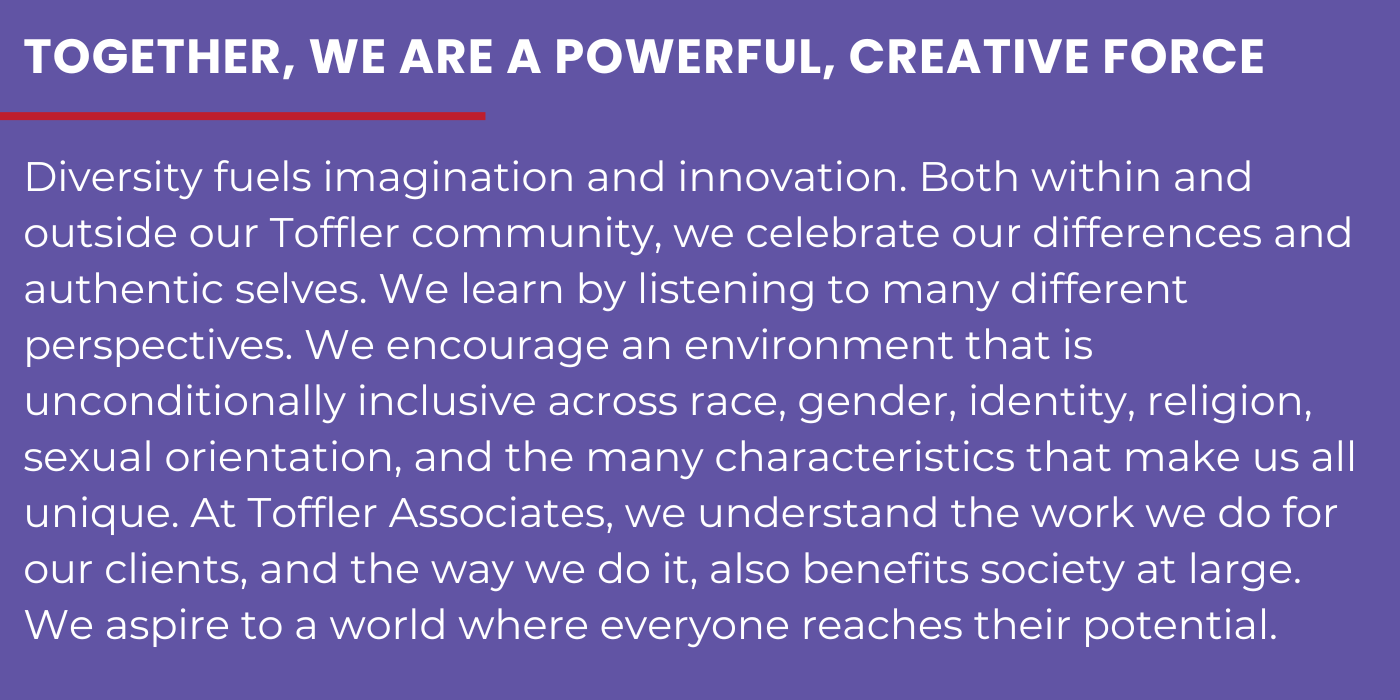 Applying DEI learning to our operational processes
With this new vocabulary and awareness as a starting point, we looked at the firm's processes, policies, and practices. For starters, we made distinct wording changes to our job postings to signal our inclusivity and altered the screening process for candidates. This resulted in more candidates who, while qualified before they found Toffler Associates, represented greater diversity for our firm in addition to their exceptional skills and experiences. In 2022, we initiated a summer internship program focused on hiring interns from Virginia Tech and VMI who represented first-generation college students and diverse engineering and computer science students. Through these recruiting changes, we increased opportunity for emerging talent, and, in two years, Toffler's BIMPOC (Black, Indigenous, Multiracial, and People of Color) representation has moved from 20% to >30%.
At a recent all-hands meeting, we highlighted five charitable organizations that benefit at-risk populations, then voted as a firm to make a corporate donation to the National Health Law Program, which supports attorneys and policy advocates "fighting to advance access to quality health care for low-income and underserved individuals." We looked at day-to-day decision-making by investigating our suppliers, which may sound unusual for a human-centered business focused on scenario analysis and business strategy. This analysis resulted in our commitment to intentionally supporting women- and minority-owned businesses for company and client events. Although this is a small change, it had meaning for our team and the businesses we now patronize.
Engaging leaders in DEI practices
Understanding that leadership needed to set the tone for the firm, C-level leaders, directors, and operational managers enrolled in the University of South Florida's Diversity, Equity, and Inclusion in the Workplace course, with many team members opting to also become certified through the same course. Throughout that seven-week course, we deepened our learning by conducting biweekly study groups to create space for sharing and questioning each other openly while also talking about how lessons applied to our firm and clients. Many of our leaders and team members now make it a practice to seek opposing viewpoints and perspectives by diversifying the number of firm stakeholders we include when making decisions and democratizing decisions to more members of our team. We've expanded our perspectives on issues by committing to read, listen, and engage with diverse voices in media, industry, and academia. We recognize the limits of our experiences and knowledge and understand that, as a firm paid to develop Future Proof® strategies, we must continue to push ourselves into the unknown and sometimes uncomfortable.
Benefiting from a diversity of business wisdom
When I built our Advisory Board, I sought out voices who could help position Toffler for enduring long-term success. This meant seeking people who had shaped their own organizations by seeing the unseen, adapting to a rapidly changing business environment, and, often, defying others' preconceptions and expectations along the way. Our Board of five—three women and two men, with two BIMPOC members—embodies these characteristics. During our Board search, we stated the requirement of having an intentionally diverse Board (e.g., gender, BIMPOC, and business experience). While it took longer to identify candidates and seat this Board than if we had only looked to our immediate network, we now have a Board that represents the diversity in leadership that we want to see in the workforce and that adds meaning to our business strategy. Their experiences and perspectives allow for healthy debate and dialog at quarterly Board meetings, all-hands Practice Meetings, and client working sessions, and their insights are invaluable to how we address our key business decisions and approach and resolve client challenges.
Reconsidering subject matter expertise with a DEI lens
Our project work includes primary and secondary research, which leads us to evaluate data and research sources, the Subject Matter Experts (SMEs) we interview, and the filters we use to prioritize strategic recommendations. Tracking interview demographics across the first of several projects caused no surprise: Most of our SMEs were white men, aged 45-60, representing the East and West Coast urban centers. Our intent is to have representation from SMEs that better reflects society: gender diverse, non-white, and <40 years old, from across the country and internationally. This diversity of expertise allows us to uncover biases in our data and offer our clients more insightful, lasting solutions. For example, a Future of Healthcare study included SME interviews with urban nurses and researchers studying medical-related social work. The resulting Alternative Futures Scenario Analysis included marginalized communities in several scenarios to address challenges of technology access and trust. Recognizing this imposes additional research time pressure on our consultants and is often difficult to track, we plan to evaluate the SME demographics as an ongoing practice and inform our researchers of representation gaps through project quality reviews. Given different source demographic variables for secondary research, our goal this year is to integrate a similar practice of tracking and challenging our sources and to push research associates to seek out non-obvious sources and counter-opinions.
Guiding our clients on the road to DEI
These small and intentional changes are not only about having a workplace that looks more like society. It's also good business. As Aminu Abdullahi writes in Tech Republic, diverse and inclusive workplaces solve problems more effectively and comprehensively, which directly correlates to improved product design, distribution strategy, customer service, sourcing strategy, and workforce management. Our clients increasingly understand these benefits and ask for support as they plan for and operationalize more inclusive workplaces.
Our work within the firm, along with the help of DEI and Diversity, Equity, Inclusion, and Accessibility (DEI&A) experts, enables us to better guide our clients like the Air Force Research Lab as they embrace DEI&A now to better position themselves to navigate a rapidly changing environment and uncertainty related to the future workforce, labor supply, demand for STEM talent, digital skill requirements, public policy, and human capital decisions. For several clients, we have incorporated a social equity and systemic racism lens into our broader analysis and recommendations. We see this lens as fundamental to ensuring the strategies we advocate help our clients thrive now and in the future.
Continuing the work of DEI: The journey continues
Although we have started to integrate DEI into how we do business, our progress encourages us to go deeper. We are proud to share our EOY 2022 Employee Engagement Survey results stated 100% of "Employees are treated fairly (regardless of their race, gender, age, sexual orientation, political affiliation, etc.)", and 96% stated, "I feel proud to work for Toffler Associates." As we enter 2023, we continue to widen the aperture to detect what we previously could not see. In Q2, we will conduct an updated DEI assessment to identify the next phase of our evolution, for example, integrating additional metrics that help us demonstrate the outcomes our actions have had. Learning from other organizations and our employees will fuel our process of identifying new ways we can change for all employees and society. While creating a more inclusive workplace requires introspection, I am driven by the Toffler Associates' Mission:
Unwavering commitment to be a catalyst for change and create future value. TA creates better futures for its clients, employees, and society.
I believe we create small ripples that affect our team, our client results, and ultimately society.
Get The latest Toffler Insights & News