Insights
Aligned to Thrive – This is How to Focus Your Future Workforce
May 2, 2018
The operating environment continues to grow more volatile, ambiguous, complex, and uncertain (VACU). As it does, organizations realize the extent to which rapidly changing external factors have the power to influence their future success. Building resilience means developing forward-looking strategies and practices that prepare and equip them to grasp the opportunities inherent in those external impacts, and to protect the organization from the challenges within as well.
Workforce alignment may be one of the most critical tasks in this effort. While there's no doubt that the workforce is changing dramatically, unlike the externalities, leaders have some control over how the structure and function of their teams impact the business.
Creating Modern Workforce Alignment
Traditionally, an organization assessed the quality of its workforce against capabilities and competencies. Today, thanks to a blend of leadership and emerging technologies, that process also includes technical and social skills, as well as individual formative experiences.
Even equipped with new resources, leaders face a litany of challenges as they structure their people to operate in the VACU environment. Most commonly, these challenges include culture, leadership engagement, diversity and inclusion, and retention. Though many of these issues seem timeless, we see a rapid change in demographics and worker expectations, and organizations are feeling the stress of the Future Shocks.  Never before has the workforce had such influence on what, where, and how an organization makes strategic decisions.
Fortunately, even in this chaotic era of change, successful workforce alignment is possible – potentially even simple – if performed strategically and methodically.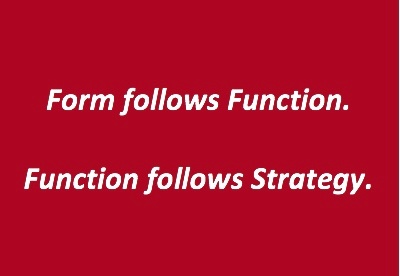 Four Lenses for Assessing Workforce Alignment
The concept of Form-Function-Strategy originates in architecture. This idea of beginning with the end in mind is neither new nor limited to the industry. In fact, the tenet is directly applicable to this task of developing a workforce capable of achieving an organizational-level strategy in a challenging global market environment. Presuming that the end – the Form – is a resilient, future-focused entity, the process of reaching it considers lessons learned and past experiences through four primary lenses:  Strategy, Structure, Technology, and People.
Strategy
This is where workforce planning and alignment begins. The success of the assessments depends on the clarity of the leader's vision, the simplicity and differentiation of the organizational strategy, and the quality of the business operations employed to achieve the target outcomes.
Structure
Organizations habitually overlook the importance of evaluating the structure of the organization before embarking on a workforce assessment. That's a mistake. Reaching target outcomes requires the functional workforce structure to align with the organization's long-term objectives and strategies. It's dangerous to presume that an organizational structure that has existed over time will continue to work successfully in the future. At this phase in the process, the organization is advised to audit its capabilities against its organizational structure.
Technology
Technology may be the linchpin in this entire equation. Modern tools offer cost-effective methods for assessing employee and cultural performance, and sustaining a well-trained workforce in three key areas.
Human resources teams are phasing out traditional in-person, on-paper annual performance evaluations in lieu of software-driven ongoing, 360-degree review cycles that deliver feedback to employees quickly – at a fraction of the cost and time traditionally invested in reviews.
Virtual Reality and Augmented Reality technologies provide immersive environments and experiences that are revolutionizing education, training and change management initiatives, erasing boundaries for distance learning, and enabling new categories of telework experiences.
Big data can support predictive analytics across a spectrum of workforce data, informing workforce planning and alignment, and ensuring the appropriate mix of resources for current and future initiatives.
People
Investing in employee engagement is one of the most significant trends in workforce management. Businesses are integrating benefits like leadership coaching and training, supported technologies, flexible schedules, and environmental and ergonomic upgrades to ensure each employee enjoys the workplace, culture, and their role. And businesses are reaping returns on the investments including competitive hiring, higher productivity, increased retention, and reduced healthcare costs.
Aligning Roles and Abilities with Priorities
As the market becomes ever more dynamic, credentials and experiences are gaining priority over some traditional degrees. We're seeing more and more enterprises providing focused training and certifications that ensure their people have the appropriate, current skills for their role. For example, a Cyber Information Security Professional certificate coupled with industry experience may take priority over a Computer Science degree. Of course, it's unlikely that advanced degrees will lose their value, but experienced and technically proficient employees are vital to almost every organization.
Keep in mind that workforce alignment is not a set-and-forget endeavor. Ongoing training and certifications are important, particularly when paired with succession planning. As demographics shift drastically from (retiring) Boomers to Millennials, keeping the workforce organized for success takes remembering that the multiple generations working within the entity bring varying priorities, skills, and expectations. Integrated succession planning helps to ensure that every employee has access to appropriate ongoing professional development and that the culture can motivate all of its people to take positive action for the sustainability of the organization.
Keeping the End in Mind
Building organizational resilience in a global environment where externalities can have a measurable (positive or negative) impact on business outcomes requires that leaders build strategies to pursue or mitigate those outside factors. Creating a workforce aligned to the organizational strategy is one of the surest ways to do that. Properly executed, that endeavor touches every facet of the business – strategy, structure, technology, and people. It's an investment in your people, culture, and organization that takes specialized focus and leadership, but that can radically improve the likelihood of successful ongoing change.
It is time to realign workforce around simple strategy.
{{cta('befa9ff3-80a5-4a6c-b483-9daadb37b099')}}
Get The latest Toffler Insights & News