Insights
Innovation and Process Improvement – the PBJ of Business Endurance
July 26, 2017
Ask most endurance athletes about their food fuel of choice, and you're sure to get a variety of unusual answers with a couple of exceptions – one being the humble peanut butter and jelly sandwich. Even nutritionists and trainers extoll its virtues. It's a nutrient-rich powerhouse of protein, carbs, and fat. For most athletes, it's a tasty and cost effective resource that is simple to prepare, carry, and consume on the racecourse. And the athlete can choose from an almost limitless number of nut and fruit combinations – making it a flexible, creative way of satisfying a need.
Like a competitive endurance athlete, companies must be internally efficient and capable of adjusting strategy and offerings to stay ahead in varying terrains (e.g., innovating ahead of the rate of change, entering new markets, or securing a stronger P&L statement). And like an athlete, an organization succeeds based on its balance of preparation, agility, operational focus, and efficacy. Even if a business is incredibly adept at anticipating change in their space, any process rigidity or cultural resistance to change will hamper their ability to make the necessary adjustments to stay on course and in the lead.
Is transformation really necessary for an organization to stay resilient and relevant?
The simple answer is yes. But transformation should not be seen as a singular event. While pivots certainly happen, even they often are the result of systematic, ongoing process improvement. Innovation without a focus on process efficiency can result in offerings that are unaffordable for customers and the marketplace, and untenable for the organization.
By integrating a cycle of understanding the environment, assessing current capabilities with future objectives as a lens, and then making the appropriate changes, leaders have a better chance at securing their relevance in a changing environment.
Understand the Current State
An athlete needs to identify his or her current race pace before setting performance strategy and plans to achieve the race pace needed to win. Likewise, an organization must understand its baseline metrics and current state before taking steps toward the target objective.
Perform a Future State Assessment
Next, the athlete needs to assess the competition and calculate what pace it will take to win the race. For a business, the equivalent is considering what will happen in two, five, ten years from the present. Based on trend data, predictive analytics, and an understanding of the drivers that are influencing the market, take an honest look at how well the organization is positioned for resilience in a rapidly changing market. Review other industries for technologies and practices that could be adopted to shore up operational weak spots or pursue new opportunity channels. Outline evolving customer needs and the drivers for those changes. Anticipate whether you are likely to see a new set of clients in the pipeline or an opportunity to provide new offerings. These considerations should help to determine whether you can satisfy future market needs with current or repurposed skills and offerings, or if new ones will be necessary.
The Gap Analysis
Once the organization understands what the future state should be, it can perform an informed gap analysis. Decision makers must assess the business model, offerings, customer base, and internal process performance for efficiency and effectiveness. Do these components satisfy customer and stakeholder expectations and needs? How well do existing skill sets and technology platforms equip teams to meet customer needs? Here's where the business begins to take steps to transform its core business and model – the functions, processes, offerings, and workforce in time to be a market leader.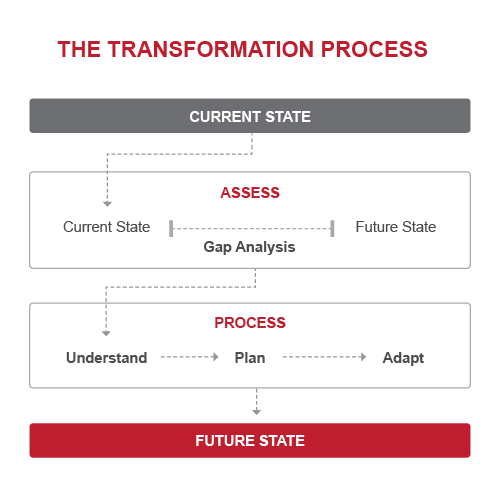 Balancing Disruptive Innovation and Continuous Process Improvement
A quick glance at the cover of most modern publications tells a clear story. Innovation is sexy. It's the rush of (seemingly) unlimited creativity and the potential that comes from disruption. Continuous process improvements, on the other hand, are neither sexy nor considered creative. The prevailing belief is that the discipline of consistently working to make existing objects or processes better has little to do with innovation. That couldn't be more wrong.
Organizations should approach disruptive innovation and continuous process improvement as integrated efforts. Where innovation brings in new streams of value, process improvement enables those discoveries to be delivered to the marketplace competitively. Process improvements are the fuel and competitive strides that take innovation from the start line to the finish. This balance is the ideal peanut butter and jelly combination of strategic agility and endurance.
We see the truth of this equation in the most stalwart, standout innovators of the modern era. Founded in 1892, General Electric (GE) has remained a bastion of "Imagination at work." From Thomas Edison to its current position as the leading Digital Industrial company in the world, GE has been both an innovator and a leader in disciplined internal practices (six sigma practices). The company has built the capacity to understand the current and future state, and to innovate and iterate as needed to create stakeholder and market value. They call this balance the GE Advantage:
Across GE, we pride ourselves on driving rigor, operational excellence, and enhanced customer value. That's why we're placing some big bets on nearly 40 high impact projects that will help increase our speed to market, improve the quality of our products and services, significantly reduce costs, and drive competitive advantage for our customer and our company…
…Today's competitive environment leaves no room for error. We must delight our customers and relentlessly look for new ways to exceed their expectations. This is why Six Sigma Quality has become a part of our culture.
Companies like GE nurture rich innovation focused on strategic advantages that germinate and are implemented through careful, efficient, continuous process improvement practices. Like peanut butter and jelly, disruptive innovation and continuous process improvements increase their respective value in combination. United, they offer the strategic agility and muscle endurance, so the athlete (business) can win in competition. Toffler Associates can be the bread that enables the PBJ to be tasted together. We help organizations combine and implement disruptive innovation and continuous process improvement to endure in shifting market places.
It's time to fuel your organization with a combination of innovation and iteration.
{{cta('bc9ba0a2-ec02-401a-8b7c-a568db3188ce')}}
Get The latest Toffler Insights & News