Insights
The Great Wait: Considerations for Navigating the Long Period of Uncertainty During COVID-19
May 28, 2020
The Great Wait will test our collective patience.  As we wait for science to advance, we will experience and create new ways of living, working, and playing that are unusual and necessary.   
There are few knowns as we peer into the near future of The Great Wait. Governmental policy is constantly shifting due to new health/science data, successes/failures, citizen compliance/pushback, political pressure, and virus flare-ups. This period will be marked by a dynamic environment with inconsistency and friction.  
Dynamic – Various policies will be tested and revised as we try to manage the impact of the virus. As new information is learned and results are observed, beliefs, policies, and behaviors will be constantly shifting as society settles on a new range of operations.  
Inconsistent – Across a variety of dimensions, different institutions will make their own interpretations of how to strike the balance between economic activity and public health. The lack of clear guidelines will create a patchwork of approaches that individuals, organizations, and governments must manage.  
Friction – As different institutions develop policies, the economy vs. public health challenge will create friction as individuals and institutions have to interact with each other following different rules or with misaligned expectations. 
A vaccine, medical therapies, prophylactics, and testing will eventually be established, allowing us an increased feeling of safety and confidence in public spaces. For now, timelines are unclear for mass-market availability or their efficacy. Although therapies have advanced for HIV and HIV is not a regular news headline, the virus was discovered in 1983 and we still do not have a vaccine or cure.      
The rolling impact of both the health and economic crises by geography and sector evokes an image of a rocky landscape with unanticipated crevasses and peaks. The Great Wait is the longest phase of recovery with an uncertain ending and magnitude, increased fear, and oscillating confidence and feelings of safety. This sets the stage for different expectations and requires new behaviors of leaders, employees, consumers, partners, and organizations. It also presents an opportunity for innovation and risk mitigation – a time for investment, and, for some, survival. 
In our previous blog on innovation during The Great Wait, we highlighted the forces and anti-forces related to economic recovery. There are also other forces and anti-forces that will facilitate or disrupt society's desire to effectively manage life during the pandemic and create social stability.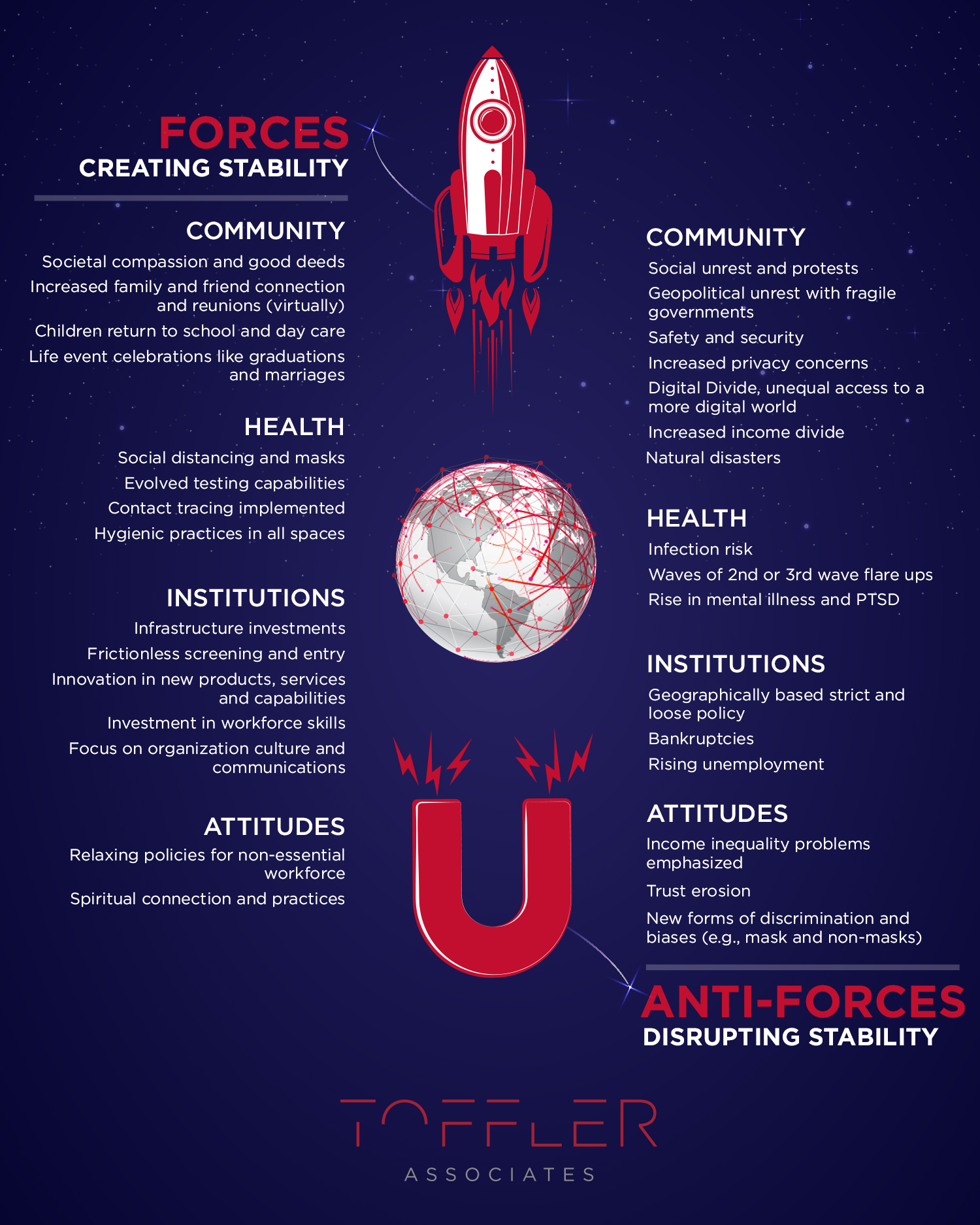 How will leaders navigate the Great Wait and returning to work? 
Leaders are focused on how to safely resume "normal" business operations with the pressure to stabilize and revive the economy coming from every direction – politics, news, unemployment rate, stock market, etc. The guidance from the CDC, OSHA, and state and local governments about returning to work are not consistent. A focus on the safety of the workforce and customers conflicts with the concerns about liability and financial decisions. There is no easy button for leaders and how these challenges are handled will display the character and resolve of the leader.  Is there a need to return people to the office quickly or can your organization wait?   
EEOC has updated guidance about ADA, The Rehabilitation Act, and other EEO Laws related to COVID-19 vulnerabilities and accommodations (EEO Laws and CV19). At this point, leaders are not talking about potential longer–term EEO concerns related to discrimination against those who choose to work from home rather than be subjected to the perceived health risk of returning to work. How will compensation increases, project assignments, and promotions be influenced by those employees who had 1:1 with the boss?    
There is a focus by some organizations to not resume work in the pre-pandemic way and make progress on desired workforce modernization goals. Leaders are thinking about ways to modernize the workforce through training new skills and elimination of past face-to-face social norms. Online educational resources are growing and are expected to reach $325 Billion by 2025 and are proving an effective way to build skills and capabilities of the workforce. Past and unimplemented plans of shifting to alternative or flexible work arrangements like 4×10, adjusted start and end times, or job sharing can now more easily be implemented. Most workers value their time not commuting and have shown they can be productive while teleworking. What will you stop, start, and continue doing to progress workforce modernization? 
Three months ago, some urban areas had extremely low unemployment rates and highly competitive job markets for certain titles like data scientists, creative managers, software engineers, hardware engineers, etc. A shift to long–term teleworking removes geographical limits for recruiting needed skills that are in short supply. Twitter and Facebook recently announced employees can work from home forever which removes geographical boundaries to future recruiting. How will your talent acquisition strategy change with increased geographic flexibility? 
We are entering the third month of social distancing and the stay-home order, and to me it's like a marathon: We just started mile 3. Twenty–six months will feel like 26 miles for many leaders leading to exhaustion, stress, poor sleep, and limited surge stamina.  Sustained traumatic exposure will not just be an effect at the front lines. Continuous stress is also shown to have lasting effects on physical health, mental health, and susceptibility to illness. Mindfulness, meditation, exercise, and a healthy diet are the en vogue practices and have measurable success in reducing anxiety, improving focus and memory, along with countless other benefits. How are you maintaining sanity and well-being for yourself and your employees? 
Rachel Naomi Remen, a teacher of alternative medicine, said, "The willingness to consider possibility requires a tolerance of uncertainty."  Given the Great Wait, we must tolerate uncertainty, and we must create possibilities.  Toffler Associates uses Alternate Futures® Scenario Planning to understand uncertain futures near, mid-, and long–term and identify specific plans and actions.  Some questions to consider: 
How will you maintain moral

e

 throughout the Great Wait?

 

What new employee behaviors and expectations will emerge?

 
Where are 

there

 opportunities to modernize your workforce?

 

How will you prioritize critical programs, new product development, and organizational focus?

 

How will you

r

 competitors redefin

e

 business?

 
Innovation shouldn't just be the domain of product designers and technologists. There's a world of opportunity opening up for all leaders – and employees – to be the next great innovator of the employee experience. 
Please reach out if you'd like more information about Toffler Associate's research on Post COVID-19 to better understand near and long–term implications of the pandemic. 
{{cta('00caf38e-bdff-43b8-ad8e-dfd47ecef19b')}}
Other COVID-19 resources:
Get The latest Toffler Insights & News