Insights
Six Career Development Insights from Women in Leadership
These human-centric insights apply to all professionals
March 7, 2023
Michele Bolos, Loretta Penn, and Jenn Swindell from Toffler's Advisory Board recently joined us for a discussion. These three female leaders, facilitated by our colleague Tiara Jackson, talked about the challenges they faced and lessons they learned on their roads to becoming organizational leaders and business owners. Through our conversation, we gleaned 6 major insights that can help people in all stages of their career seek advancement, promotion, and comfort in the workplace.
1. Know what you do best, so you can advocate for your value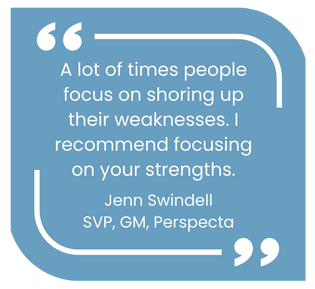 Focusing on what you do best helps you maintain healthy work life balance and best advocate for yourself during promotion and salary conversations. Being able to point to quantifiable, tangible achievements in your area of expertise shows your value to your employer, and provide experiences you can point to when you seek your next role. Practice describing your skillset in a way that highlights quantifiable contributions to profitability, positive feedback from clients, and improvement over time. However, don't be scared to ask what you could do better, so that you can course correct and continually develop a robust skillset.
2: Understand your filter to avoid being unnecessarily hard on yourself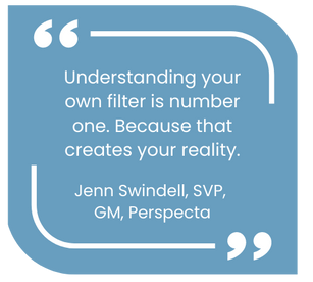 The way you give and receive feedback can change everything about your mood, your job enjoyment, and even your career trajectory. The ability to understand your own biases, mitigate overly pessimistic or optimistic inputs, and come to an objective conclusion in any given situation is the hallmark of a mature and effective leader. And while projecting confidence and objectivity can help earn the respect of your coworkers and clients, it is equally important to project internally, and treat yourself with the kindness and respect you deserve. Purposefully pursuing positive thinking is one of the best ways to improve your job enjoyment, stress levels, and overall quality of life.
3: Mentorship should be mutually beneficial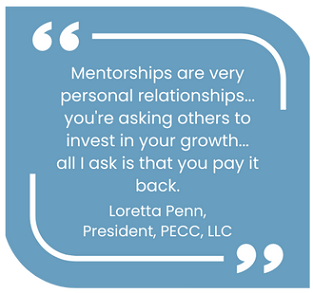 It is important to define direction in your career growth to work toward a consistent progression, especially early in your career. One of the best ways to keep yourself on track is to have one or more mentors who can provide you advice from their own growing pains and speak on your behalf when you aren't in the room. But to appropriately foster this relationship, you must treat it as a two-way-street. While your mentor provides you advice, advocacy, and opportunity, you should return the favor by respecting their time, showing up for meetings, and keeping them updated on your progress. Treat your mentor with gratitude, and you will get much more out of your cooperative relationship.
4: Effective leaders foster and manage difficult workplace conversations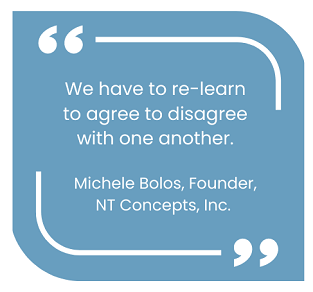 We live in a period of dramatic, rapid social changes. At the same time, Americans have an overwhelmingly pessimistic outlook on issues ranging from economics to international affairs. Conventional workplace wisdom tells us that we should not discuss controversial, potentially sensitive topics with our peers. But especially as younger generations–who are increasingly socially active, diverse, and concerned about the future–continue to enter the workforce, these conversations will be unavoidable. Rather than discouraging discussion, colleagues should feel comfortable and empowered to speak about the drastic changes happening around us. Navigating these topics effectively requires leaders who are informed, empathetic, and engaged with their employees.
5. Establish a sustainable personal ecosystem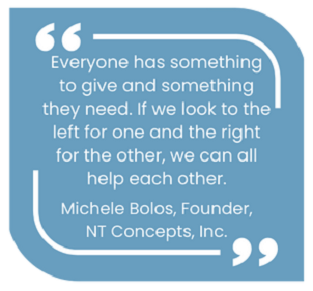 Think about the collection of people and activities that support your work from a 360° perspective. The people in your ecosystem can be your manager, your peers, or coworkers with more or less tenure than you. Look to and foster those relationships in a way that affirms and challenges you for your personal growth over the longer term. For example, if you work with or know of someone in a position that you aspire to, reach out and make a connection. Chances are, they not only have the time to talk to you, but are eager to answer your questions and help support the next stage of your career progression. As your success leads to opportunity and career advancement, it also spells out the legacy you leave behind within your organization and community. Your actions and behaviors set an example for those who look up to you–make sure they are worth emulating. When you consider the activities your work entails, think about the value you are adding–to clients, to shareholders, to the business–and be careful of habitually accepting roles or taking on work that doesn't drive the business forward. In short, seek alignment in your relationship to the work.
6: Speak truth to power and build connection through empathy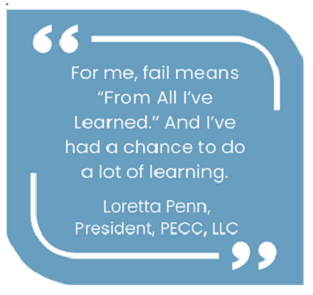 Speaking up when you see something wrong can be hard. But it is necessary for change. Don't underestimate the value of empathy–it is a leadership skill equally as important, if not more important, than traditional metrics like IQ. We should be willing to lean into our empathy and grow from our challenges and give others the opportunity to do the same. Be an empathetic leader and see that as a strength, rather than a weakness. You can be emotional and still be strong. The ability of colleagues to trust one another and feel comfortable in the workplace is one of the key accelerators of performance and advancement in organizations. As important as it is to advocate for yourself, treat yourself with kindness, and set a model for those who follow you, it is equally important to do everything in your power to contribute to the equity of comfort in your workplace.
Related Topics
The Future of Work is Now: Strategies for Intelligent Automation & Talent Transformation
Letter from the CEO: Happy New Year, and Welcome to 2022
Our CEO's takeaway as we move into 2022: We play an active role in creating the future through our decisions and behaviors.
Managing Uncertainty: How to Use Futures & Foresight in a COVID-19 World
Get The latest Toffler Insights & News